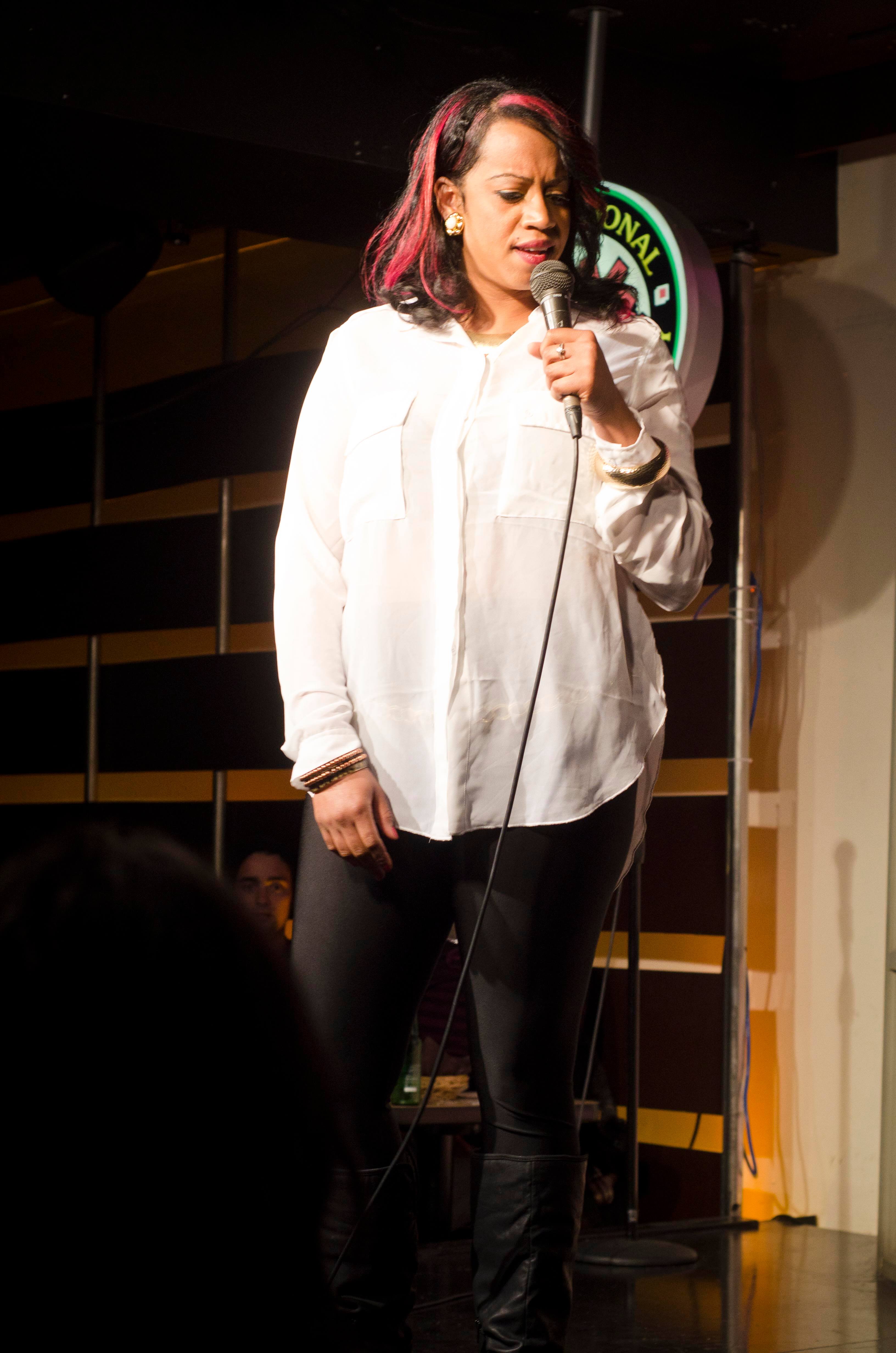 Keesha Brownie, Jill of All trades brings a verbal arsenal of humour harmony and business hustle center stage. She is unquestionably one of the most sought-after Canadian Entertainers to watch. Originally born in Montreal and relocated at a young age to Brampton where she miraculously survived the boredom of suburban life. Brownie speaks candidly about her Jamaican roots and Canadian Upbringing in her fun and infectious style of comedy. Her likable approach has been enjoyed in clubs, colleges, festivals, and theatres worldwide.

known for being multi-faceted, even in a pandemic, she has single-handedly curated a Comedy Album, Ingredients of a Brownie, produced of a virtual comedy series titled Stand-up Stitches which broadcasted live at The Rose Brampton Theatre. For Black History Month Brownie also co-produced and starred in The Underground Comedy Railroad Tour. The tour celebrated its 9th year using innovation to pivot the tour to a virtual audience. She has headlined and is a regular on one of longest-running monthly sold out shows in Toronto, Kenny Robinson's Nubian Disciples of Pryor Comedy Review. And Most Recently released her new comedy parody song entitled Vaccine which takes a political and comedic jab on the current climate.

Whether sharing the stage with top comics or travelling across North America and the Caribbean, Keesha Brownie knows how to work the room and delivers better laughs than your drunk uncle at Christmas time. Get brownie on all social media platforms.
Comedy gives me a high like no other drug. I can't put words on it. When it's good it's really good, you still feel the crowd laughing for weeks... there is something about laughter.

Currently focused on expanding the Joker's Corner brand, you can expect Joker's Corner Comedy Shows to come to a city near you and for Miss Brownie to continue to light up the microphone with her funny charm for many years to come. Her unique delivery, her passion for excellence, and her genuine approach to comedy will have you rolling on the floor laughing your *ss off (or ROTFLMAO as it is universally understood) and you can answer YES to the lingering question...Got Brownie?
Recent Credits
2015 Canadian Comedy Award Nominee for Best Female Stand Up Comedian
2015 Funny Bone Comedy Club - Syracuse, New York
2015 & 2012 Comedy Nest - Montreal, Quebec
2014 Broadway Comedy Club - NY
2014 Moca Mondays - Harlem, New York
2014 Stand Up NY- New York
2014 LAFFAHOLICS - Brooklyn New York
2014 MTV Canada - Loosing It
2014 Windsor City Border Comedy Festival
2014 Absolute Comedy Club, Kingston-Ottawa-Toronto
2014 NXNE Music, Film & Comedy Festival
2014 SheDot Comedy Festival
2014 Underground Comedy RailRoad Tour 3rd Annual
2014 Just For Laughs Showcase
2013 Joke & Notes Chicago
2013 NXNE Music, Film, Comedy Festival
2013 City of Brampton 2012 Arts Acclaimed Award
2012 Canadian Urban Music Conference VIP Reception
2012 Windsor Sports Weekend
2011 CBC Television The List: Tribute to Richard Pryor segment
2011 Comedy Works Club - Montreal
Training
Second City Improvisation & Conservatory Program -- Jennifer Goodhue, Lisa Merchant, & Frank McAnulty
Stand-Up Comedy -- Larry Horowitz
Comedy Writing Lorne Frohman
Acting Diana Belshaw, Tatiana Jennings, Alex Fallis
Shakespeare/Movement -- Kennedy. C. MacKinnon
Film & Television -- Neil Dainard
Singing -- Karen Randoja, Alejandre Nunez
Mask, Clown -- Dean Gilmour
Voice -- Kennedy. C. MacKinnon, Catherine Marrion
Ballet, Modern, Social & Historical Dance -- Heidi Strauss, Viv Moore, Kelly Arnsby