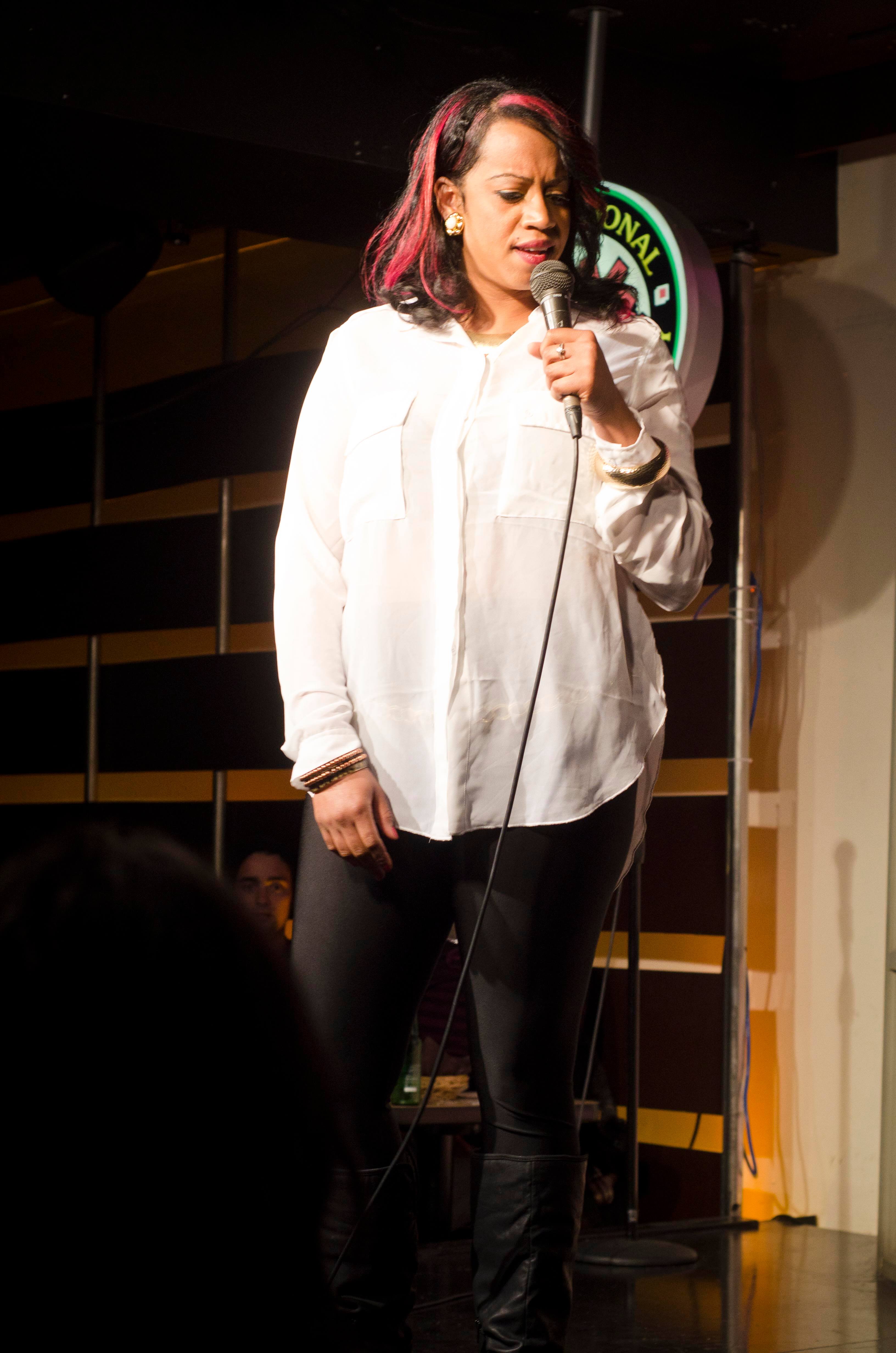 Keesha Brownie is an energetic, multi-faceted performer. She crafts her comedic recipe with a background in theatre, sketch, and music. Making observations about her Jamaican roots and Canadian upbringing, she punctuates punchlines with act-outs, parody songs, and sometimes even backup dancers. 

"Theatre is what really gave me the legs and the skeleton to do standup comedy because it's the same kind of art form, you're up there and you're vulnerable." 
- Keesha Brownie, interview with Alexis Perikleous for CBC

Behind that dynamic stage presence lies a fierce work ethic and an entrepreneurial mind. Brownie is a Second City alumni, independent show producer, and she keeps her fingers on the pulse by frequenting open mics all over Toronto.

Brownie earned a Canadian Comedy Award nomination for Best Female Stand-Up in 2015. From there, she has made a name for herself on a global scale. Brownie has graced the stage across Canada and the United States. She's also performed in the Caribbean and the United Kingdom. 
"Keesha Brownie's album has everything you love about a night at a comedy club. The material is casual and cool, with an edge that keeps you on your toes... It's precisely what most comedy audiences look for: relatable material with personal roots." 

You may recognize her from the She-Devil Comedy Festival in NYC, Edinburgh Festival Fringe, or as a pre-show act for Adam Sandler on his 100% Fresh Tour. Brownie is also a regular headliner on Kenny Robinson's Nubian Disciples of Pryor Comedy Review, a wildly successful show on the Toronto comedy scene.

When performers lost their stages amid the COVID-19 pandemic, Brownie didn't skip a beat.

In 2020/21, she co-produced and starred in an online incarnation of the Underground Comedy Railroad Tour, a long-running showcase of Black comedians in Canada. She also single- handedly produced Stand Up Stitches, a virtual show broadcasted live at The Rose Brampton Theatre. Using material from the program, she created Ingredients of a Brownie, her debut comedy album produced by Howl & Roar Records.
Recent Credits
2023 Winnipeg Comedy Festival
2022 Best of the Fest, Burbank Comedy Festival, Flappers L.A
2022 JFL ORIGINALS Comedy Album Recording
2022 Underground Comedy Railroad Tour Comedy Album Release
2021 Solo Comedy Album Release Ingredients of a Brownie
2021 Jully Black & Strong & Sexy Cycle 8 Zoom After Party
2021 Centennial College alumi Zoom Comedy Show
2020 Cross Border Comedy Festival (online)
2020 Toronto Caribbean Tales International Film Festival
2020-Present Curator & Host of Stand-Up Stitches Comedy Series,  Brampton Rose Theatre
2019 Just for Laughs Canada & Sirius XM TOP COMIC COMPETITIONS
2019 LIVE NATIONS PRE SHOW FOR ADAM SANDLER
2018 RUTAS International Multi Arts Festival
2018 Laval's 1st Comedy Festival, PQ
2018 Harborfront Kumba Festival: Trey Anothny's Dat Gyal Funny
2017 MONTREAL'S JUST FOR LAUGHS COMEDY FESTIVAL. KEVIN HART LOL NETWORK
2015 Canadian Comedy Award Nominee for Best Female Stand Up Comedian
2015 Funny Bone Comedy Club - Syracuse, New York
2015 & 2012 Comedy Nest - Montreal, Quebec
2014 Broadway Comedy Club - NY
2014 Moca Mondays - Harlem, New York
2014 Stand Up NY- New York
2014 LAFFAHOLICS - Brooklyn New York
2014 MTV Canada - Loosing It
2014 Windsor City Border Comedy Festival
2014 Absolute Comedy Club, Kingston-Ottawa-Toronto
2014 NXNE Music, Film & Comedy Festival
2014 SheDot Comedy Festival
2014 Underground Comedy RailRoad Tour 3rd Annual
2014 Just For Laughs Showcase
2013 Joke & Notes Chicago
2013 NXNE Music, Film, Comedy Festival
2013 City of Brampton 2012 Arts Acclaimed Award
2012 Canadian Urban Music Conference VIP Reception
2012 Windsor Sports Weekend
2011 CBC Television The List: Tribute to Richard Pryor segment

Training
Second City Improvisation & Conservatory Program -- Jennifer Goodhue, Lisa Merchant, & Frank McAnulty
Stand-Up Comedy -- Larry Horowitz
Comedy Writing Lorne Frohman
Acting Diana Belshaw, Tatiana Jennings, Alex Fallis
Shakespeare/Movement -- Kennedy. C. MacKinnon
Film & Television -- Neil Dainard
Singing -- Karen Randoja, Alejandre Nunez
Mask, Clown -- Dean Gilmour
Voice -- Kennedy. C. MacKinnon, Catherine Marrion
Ballet, Modern, Social & Historical Dance -- Heidi Strauss, Viv Moore, Kelly Arnsby